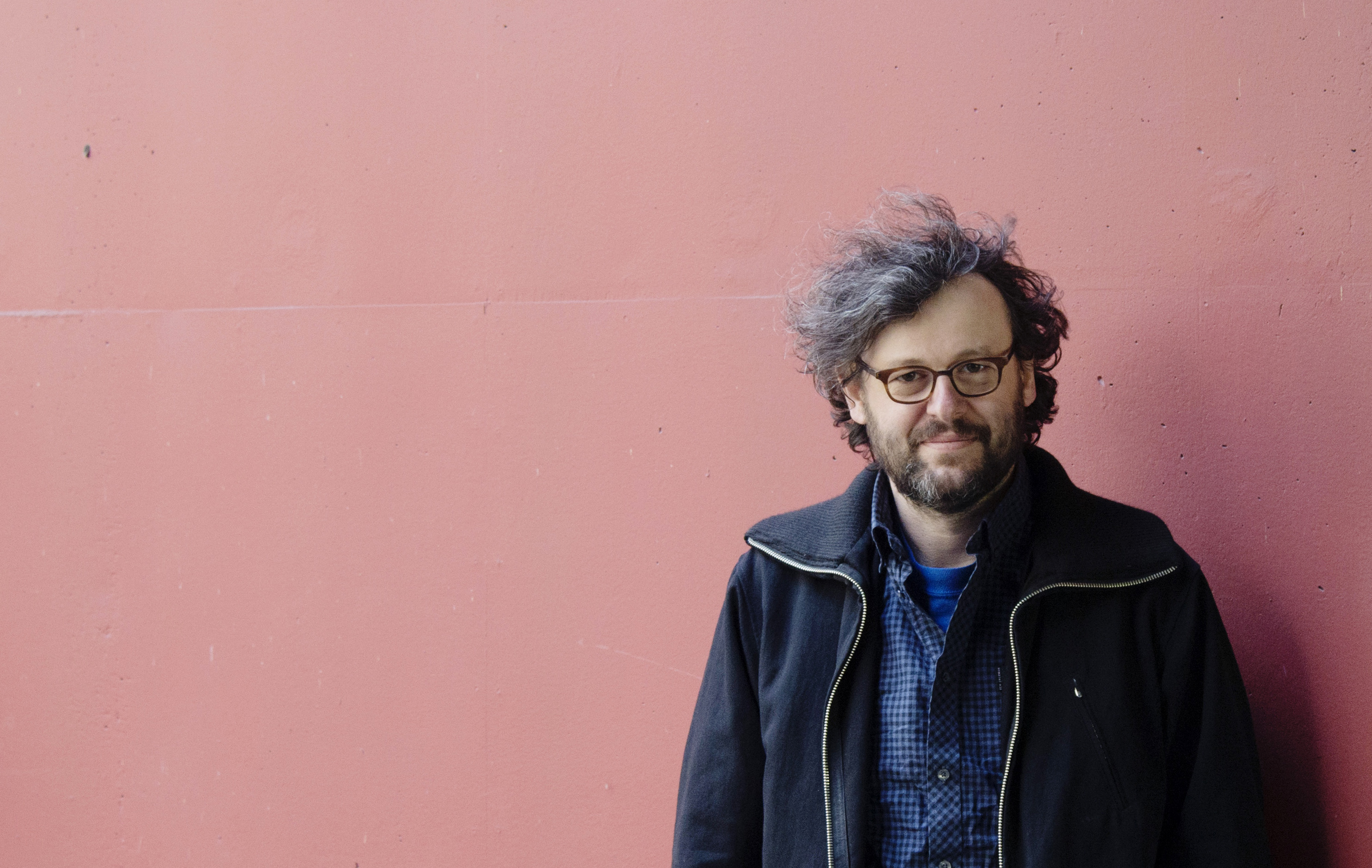 Rayon è il progetto solista di
Markus Acher,
cantante e chitarrista dei
Notwist
, membro dei
Lali Puna
e fondatore dell'etichetta Alien Transistor. Morr Music ha annunciato l'uscita del primo full-length intitolato "A Beat Of Silence" che uscirà ufficialmente in data 11 novembre. Abbiamo il piacere di presentarvi in anteprima "Dots", secondo brano estratto. Dopo lo streaming, trovate l'intervista all'artista tedesco che spiega sotto vari punti di vista il processo creativo del lavoro.
Il tuo nuovo album solista uscirà a novembre per Morr Music. Qual è l'idea intorno alla quale è stato costruito "A Beat Of Silence"?
Ho composto questa music per il fesival "Frameless" di Monaco che si svolge in uno spazio molto intimo e che si concentra maggiormente sula musica sperimentale elettroacustica.
Ho quindi composto attraverso una combinazione di strumenti che mi sono sempre piaciuti: pianoforte, marimba, vibarfono, percussioni (e anche harmonium). Ho provato a seguire strade diverse con più strutture ritmiche, idee astratte, una sorta di lente di ingrandimento per ogni traccia che ho integrato con note e accordi.
Ho voluto una parità fra tutti gli strumenti, in modo che diventassero un unico strumento, in modo che una melodia non sia definita da un unico strumento ma dalla combinazione di tutti. E tutta la parte elettronica presente nel disco è frutta di suoni rielaborati di strumenti acustici.

"A Beat of Silence" sta a significare, in un primo momento, che la parte non sonora è importante tanto quella sonora, e ognuno di questi brani è caratterizzato da un po di silenzio. Ma integrando i concetti con le note, tutti diventa personale, e così "A Beat Of Silence" significa anche che qualcosa può accadere in ogni momento della tua vita.


C'è un elegante approccio di ricerca in questo lavoro. Qual è la tua definizione di ricerca e sperimentazione per quanto riguarda la musica.
Io cerco sempre un'idea o un'immagine che mi auti. E' diversa per ogni progetto e per ogni album. In alcuni casi comporre è più intuitivo, in altri casi no ma alla fine io cerco sempre di avere un'idea generale, ecco di cosa si tratta. Mi piace sperimentare molto ma prendo anche ispirazione dagli altri. "Rubando dai tuoi ladri preferiti", come scrive Van Pelt. Guardo molto ai libri d'arte, ai film, alla poesia per trovare quell'immagine che mi mostra cosa sto cercando e mi aiuta.
Per questo album, Il lavoro del pittore Agnes Martin e del fotografo Shoji Ueda mi hanno insegnato come essere minimale senza semplificare. Inoltre, quando ho "perso la strada" e non sapevo cosa fare, ho visto il film sci-fi "Midnight Special" che mi ha dato il coraggio di apprezzare il lato oscuro e cinematografico del disco.

Questo lavoro è molto diverso da ciò che fai con gli altri progetti. Qual è la differenza fra il processo creativo da solista e con le band in cui suoni?
Per quanto riguarda il progetto Rayon, mi piace iniziare con limitazioni o concetti che mi allontanano da comporre canzoni. E inoltre , provo molto e forse non lo farei insieme ad altre persone. Ma mi piace anche collaborare. Lo scambio e il conflitto con le idee altrui può rendere tutto più ricco. Inoltre in questo progetto l'input e il suono di altri musicisti e del profuttore Tadklimp(che suona nel disco) sono stati molto importanti.

Cosa ci puoi dire a proposto del'artwork di Michael Doumontier in correlazione con il suono e il concept del disco? Quanto è importante la contaminazione e la connessione con le arti visive?
Io adoro Michael Doumontier, da quando ho trovato il libro del suo collettivo "The Royal Art Lodge". Cerco di seguire il suo lavoro, il suo blog e la sua serie di post su Instagram intitolata ""Stopping Off Place" che è incredibile e una costante ispirazione. Sono stato molto contento che abbia accettato di fare l'artwork. La sua interpretazione ha dato una nuova dimensione al tutto e ha aggiunto tanto. Vedo l'artwork, quando ascolto la musica e viceversa.

Per quanto riguarda i live in relazione al disco, è previsto un tour?
Non possiamo fare un tour lungo perchè dobbiamo sempre avere un pianoforte e una marimba messi a disposizione dalle location. Ma stiamo cercando di trovare occasioni e posti speciali che possano funzionare. Suoneremo tre live rispettivamente a Monaco, Landsberg e Berlino. Sarebbe bello suonare di più. Dal vivo suona tutto magnificamente, unicamente il suono di questi strumenti acustici in una stanza, potrei ascoltarlo per sempre.

Quali sono gli album che hai apprezzato maggiormente quest'anno?
Oh...tanti in realtà. Devo pensarci per una lista di fine anno più lunga. Quelli che mi vengono in mente questa sera: Mark Ernestus Ndagga Rhythm Force, "Space * Time" dei Deux Filles, Maxine Funke (2 reissue su timelag), "Music Exists" dei Tenniscoats, il 7'' di Carla dal Forno, the Goon Sax, the Witching Waves, Parquet Courts, "Spinhead Sessions" dei Sonic Youth e tante ristampe e dischi di seconda mano che ho comprato.
English version

Your new solo album will be out this November via Morr Music. What is the idea of "A beat of Silence"?
I composed this music for a festival in munich called frameless, that takes place in a very intimate room, and focusses on more experimental music between acoustic and electronics. So I composed for a combination of instruments, which I always liked: grand piano, marimbaphone, vibraphone, percussion (and some harmonium, too).
I tried to go a different way and start with more rhythmic structures, abstract ideas, a sort of raster for each track. And then I filled it with notes, chords. I wanted all the instruments equal, so that they become one big instrument and sound together, and a melody is not defined by one instrument, but the combination of all. And all the electronic sounds heard on the recording, are just processed sounds of the acoustic instruments. "A beat of silence" in the first sense means, that not-playing is equally important as playing, and every-one of these pieces is defined by silence, too. But filling the concepts with notes, everything became very personal, again, so 'a beat of silence' also means, that something unexpected can happen all the time in your life.

There is a refined research approach in this work. What is your defintion of research in music and experimentation?
I always look for an idea or a picture, that helps me,. It's different from band to band, and from album to album, sometimes composing is more intuitive, sometimes not...but in the end, I always try to have some sort of general idea, what it's all about... I like to experiment a lot, but also, I take inspiration from other people a lot. "Stealing from my favourite thieves " like Van Pelt wrote.
I look a lot at art-books and movies and poems...to find pictures, that show, what I'm looking for, and help me. For this record, it was the work of painter Agnes Martin, and the fotographs of Shoji Ueda for example... in the beginning they showed me how to be minimal but never simple.
Later, when I lost track and didn't know anymore, what I was doing, I saw the science-fiction-movie "Midnight Special", and it gave me the courage to like the dark and cinematic aspects of the record, too.

This work is very different compared to what you do with other projects. What is the difference between solo creative flows process and the work with the band?
When I do rayon, I like to start with limitations or concepts, that lead me away from composing songs. And also, I try a lot, I wouldn't do together with other people maybe.
But on the other hand, I have to say, I really like collaborating. The communication and also conflict with other people's ideas can always make everything much richer.
In this project, also, the input and sound of the other musicians, and of the producer Tadklimp (who also is a musician in the recordings ), was very important.

What about Michael Doumontier's artwork connected to the sound and the concept of the album? How much important is the "contamination" and the connection with visual arts in you work?
I love Michael Dumontier's art, since I once found a book of his collective "the royal art lodge". I try to follow his work, and his blog and now instagram-postings called "stopping off place" are incredible and a constant inspiration.
So I was really happy, that he said yes, to do the art for the album-cover. And his interpretation gives it a new dimension and adds so much. I now see the cover-photos, when I listen to the music, and hear the music, when I look at the pictures.

What about the live shows related to this album? Are you planning a tour?
We can't do a long tour, because we always have to have to have a grand piano, and a marimbaphone provided by the local promoter.
But we try to find special places and occasions, that fit. We play 3 shows for the release in Munich, Landsberg and Berlin. Would be great to play more, though. It actually sounds very beautiful live...just the sound of these acoustic instruments in a room...I could listen to it forever.

What are the best releases that you have appreciated this year?
Oh....so many, actually. I will have to think a bit longer for a years-best-list. I say now, this evening: Mark Ernestus Ndagga Rhythm Force, Deux Filles "Space * Time", Maxine Funke ( two reissue-LPs on timelag), tenniscoats "music exists" pt.1 + 2, Carla dal Forno 7", the Goon Sax, the Witching Waves, Parquet Courts, Sonic Youth "Spinhead Sessions",... and many many re-issue and second-hand-records, I bought.