Universal Music pubblicherà il prossimo 10 novembre una nuova antologia di
Elton John
, che sarà disponibile
in diverse versioni
- doppio CD, doppio LP (180 gr.), una
limited edition
su 3 CD e download digitale. "Diamonds", questo il suo titolo, esce per celebrare i 50 anni dall'inizio della collaborazione del musicista inglese con il paroliere Bernie Taupin.
La versione su doppio CD è una raccolta di 34 successi, con un booklet di dieci pagine con illustrazioni dell'artista Richard Kilroy. La copertina del doppio 33 giri è apribile, mentre il box da collezione con 3 CD avrà una tracklist ampliata (con altre hit, come "The One", e duetti con Kiki Dee, Luciano Pavarotti, Pnau e LeAnn Rimes) e un libro di 72 pagine con la storia dietro ogni canzone inclusa e cinque esclusive cartoline.
Qui l'artwork dell'edizione limitata e la scaletta completa di "Diamonds".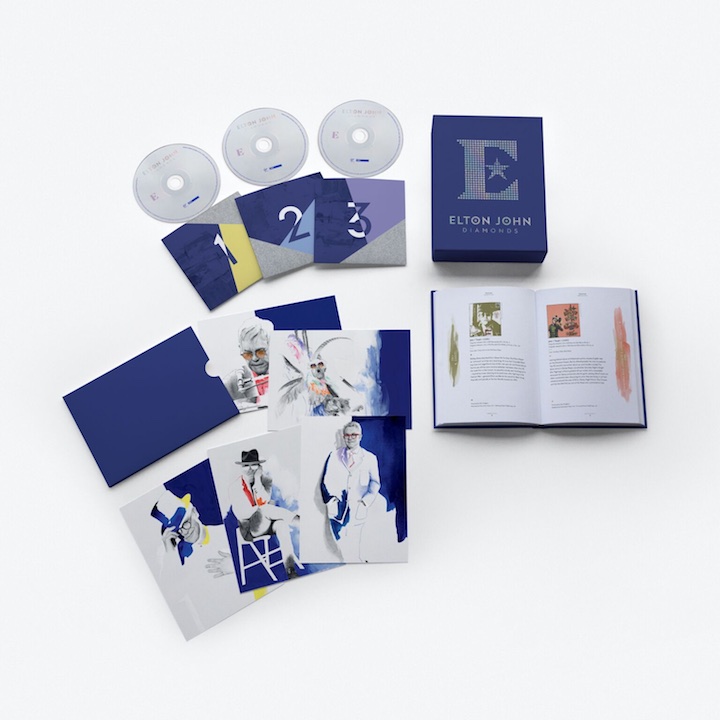 CD 1:
"Your Song"
"Tiny Dancer"
"Rocket Man (I Think It's Going To Be a Long Long Time)"
"Honky Cat"
"Crocodile Rock"
"Daniel"
"Saturday Night's Alright (For Fighting)"
"Goodbye Yellow Brick Road"
"Candle in the Wind"
"Bennie and the Jets"
"The Bitch Is Back"
"Philadelphia Freedom"
"Island Girl"
"Someone Saved My Life Tonight"
"Don't Go Breaking My Heart" (
with Kiki Dee
)
"Sorry Seems To Be the Hardest Word"
"Little Jeannie"
CD 2:
"Song For Guy"
"Blue Eyes"
"I'm Still Standing"
"I Guess That's Why They Call It the Blues"
"Sad Songs (Say So Much)"
"Nikita"
"I Don't Wanna Go On With You Like That"
"Sacrifice"
"Don't Let the Sun Go Down On Me" (
with George Michael
)
"Something About the Way You Look Tonight" (
single edit
)
"I Want Love"
"Can You Feel the Love Tonight?"
"Are You Ready For Love?"
"Electricity"
"Home Again"
"Looking Up"
"Circle of Life"
CD 3 (
deluxe only
):
"Skyline Pigeon" (
piano version
)
"Lucy In the Sky With Diamonds"
"Pinball Wizard"
"Mama Can't Buy You Love"
"Part-Time Love"
"Victim of Love"
"Empty Garden (Hey Hey Johnny)"
"Kiss the Bride"
"That's What Friends Are For"
(
with Dionne Warwick, Gladys Knight & Stevie Wonder
)
"The One"
"True Love" (
with Kiki Dee
)
"Believe"
"Live Like Horses" (
with Luciano Pavarotti
)
"Written In the Stars" (
with LeAnn Rimes
)
"This Train Don't Stop There Anymore"
"Good Morning To the Night" (
Elton John vs. PNAU
)
"Step Into Christmas".